Hi and welcome to my homepage about my Genealogical research.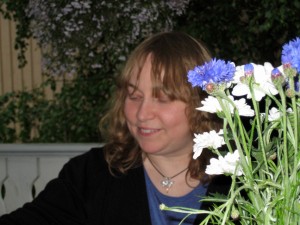 Picture: © Carina Börjesson
My name is Yvonne Carlsson and I live in Stockholm, Sweden, but my birth place is a small village Vedum (earlier: Laske-Vedum) in the part of Sweden called Västergötland.
On those pages, I will present my own genealogical research on my grandparents and backwards.
On my paternal grandparents, my genealogy is primarily in the Swedish läns (could be translated as "countys") of Skaraborg, Älvsborg, Kronoberg and Malmöhus, essentially on the southern 1/3 of Sweden and they are primarily farmers, tenants and soldiers.
One line from my paternal grandmother goes through an officer, Nils Klockenfelt, through priest during the the 17th century and all the way back to the second half of the 16th century, back to a man named Lars Olofsson, who apparently had a position at Stegeborg castle. Another line also goes from my paternal grandmother, through a woman named Sophia Hansdotter Berghman via Swedish nobility and so far as into the late middle age – early 16th century.
On my maternal grandparents, my genealogy can be found on the northern 1/3 of Sweden, in Norrbotten and Västerbotten län, where most of them were settlers in the Sami region, Arvidsjaur and Arjeplog parrishes, though they originally came from the villages of Skellefteå parrish. Among the ancestors, I also have Johannes Nicolai Laestadius, who were a vicar in Arjeplog between 1662-1697, born 1615 in Lästad, Ytterlännäs.
Note! There can be errors in the material and you should always check the information on this homepage towards the original sources!
© Yvonne Carlsson