Hulda* Teresia Apell, gift Pehrson
Click on the link above to see the page with the pedigree chart for Hulda Pehrson, born Apell.
Note! The page is opened in a new window.
This pedigree chart is also built on the Genealogic research my uncle Jörgen Pehrson did during the late 70ies and early 80ies. I have controlled most of the information in the pedigree chart towards the original sources and have not found any errors in the material.
Hulda Pehrson was my adopted maternal grandmother and I have a lot of memories of her, since she lived until 1988.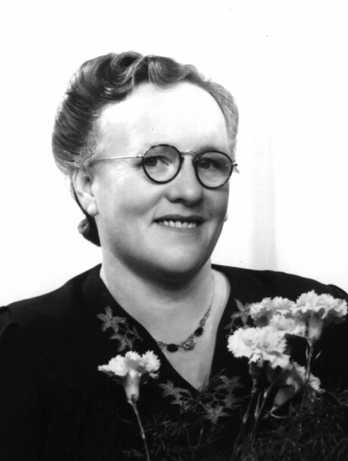 My grandmother Hulda was working as a hairdresser in Vedum. She was an absolutist and a member of the society IOGT and she was against all kind of drugs, including smoking. She was also engaged in the local politics and during the Swedish elections, she worked with recieving votes at the local election center and then counting the votes and reporting them in the evening.
Nothing compares with her meatballs and with them she also served a homemade pickels, in the family known as "Sämsholmsgurka", after their summerhouse.
© Yvonne Carlsson