Agnes Carlsson, born Olsson
Click on the link above to open the page with my paternal grandmorhters pedigree chart. Note! The pedigree chart is opened in a new window.
The closest ancestors are mostly in Larv, Längjum, Tråvad, Södra Lundby and Trävattna parrishes. One ancestor is born in Gudmuntorp, Skåne, in the southermost part of Sweden, and his ancestors are for the most part from Östra Strö and Skarhult parrishes, including a possible ancestor from a Smith family. Another branch comes from the Småland area and leads to several generations of priest during the 17th century.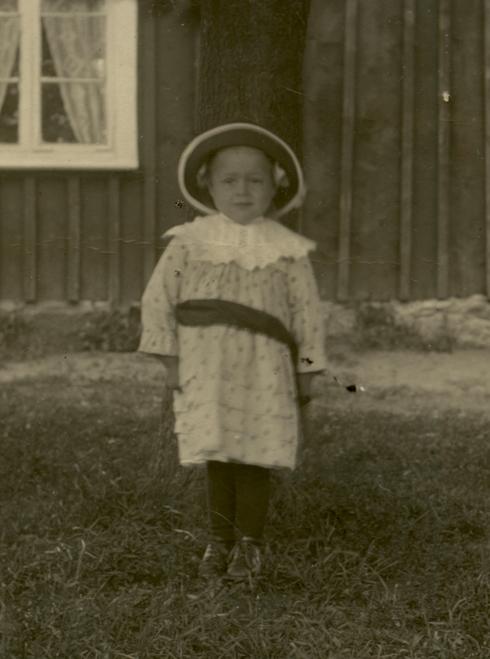 Agnes 3 years old, in Trävattna
My grandmouther Agnes was born in Valeberg, Larv parrish, but when she was abour 6 month old, she and her parents moved to Mellanåsen in Trävattna parrish, were they lived for about 3 years, until they moved to Längjum parrish. Eventually, she settled down together with my grandfather Olle in Larv parrish, where she continued to live almost to the end of her life. During the last five years of her life, she first lived at the retirement home in Längjum parrish and then she lived her last years at the retirement home in Kvänum parrish.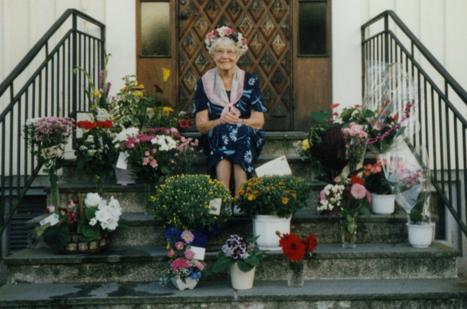 Agnes on her 90th birthday on August 29th, 2002
My grandmother had several different hobbies, apart from their garden and their summer house in Slättås. On of them was Genealogy, something I have in common with her, but with the different that she initially had to do her research with the aid of microfilm, that she had to order from the Swedish national archives to the local library in Vedum. I inherited her Genealogical research and considering the difiiculties she had when she did her research, she has succeeded tremendously well.
She was also doing different kind of handicraft, such as knitting, crochet, weaving and sewing. Apart from knitting mittens and socks for her children and grandchildren, she also made baby blankets and clothes for needing children in other countries.
Other interest she had was painting porcelaine, painting in general and sewing lamp-shades.
Finally, she also liked to travel, both in Sweden and abroad and she visited France, Austria, Israel and Spain, to mention a few destinations.
This pedigree has been updated on September 20, 2019.
© Yvonne Carlsson