Elsa Helena Johnson and her sister Anna Sigrid Johnson, both born Olsdotter and married to the brothers Anders Ivar Johnson and Per Axel Johnson (originally: Johansson).
I'm looking for descendants from two sisters and their spouses, two brothers, all immigrants from Larv parish to the United States in the early 20th century.
Elsa Helena Olsdotter was born June 9th 1886 in Bossgården, Edsvära parish and grew up in Larv parish. She emigrated to the U.S in 1908, married Anders Ivar Johnson in Des Moines, Iowa in 1911 and died in New Richland, MN in June 4th 1949. Her husband continued to live in New Richland until his death in May 8th 1962.
The sister, Anna Sigrid Olsdotter, was born in May 14th 1890, also in Bossgården, Edsvära and like her sister, she also grew up in Larv. She emigrated in November 4th 1910, married her brother-in-laws brother, Anders Ivar Johnson in Des Moines, Iowa in January 16th 1914. Anna Sigrid died in Laurens, Iowa on December 16th 1966 and her husband Per Axel Johnson died a few years earlier, in March 28th 1961, also in Laurens, Iowa.
Anders Ivar Johansson was born May 20th 1884 and  Per Axel Johansson was born February 28th 1882, both in Larv parish, with the surname Johansson, americanized to Johnson.
If any descentant from them reads this, feel free to contact me, see contact information at the bottom of the page.
———————————————————————————–
Apprehended!
Per Gustav Person
I'm trying to find my (adopted) grandfathers older halfbrother, who emigrated from Sweden to the United States in 1914…
Per Gustav Person has now been found, and a biography can be seen under the Biographies-pages.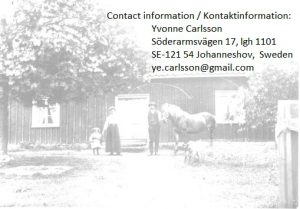 © Yvonne Carlsson